When the clock ticks over from October 31, to November 1 this year, the CS Energy employees at Wivenhoe Power Station will officially become CleanCo employees.
Wivenhoe is one of the foundation assets of CleanCo, a Queensland Government Owned Electricity company that began trading in the NEM in 2019.
Since Wivenhoe transferred to CleanCo last year, CS Energy has been maintaining and operating the power station under a transitional services agreement and Wivenhoe's employees have remained part of CS Energy.
From November 1, CleanCo will take over the operations and maintenance of the power station and the people on site will become CleanCo employees.
This is not the first portfolio change for the crew at Wivenhoe. Many of them have changed their uniforms through the years from the former Austa Energy and Tarong Corporation, and then to CS Energy in 2011.
Ian Foy, Lead Engineer – Hydro, and Electrical Technical Officer, Errol Schoenfisch have both been with the station for many years. Keep reading for their reflections on past memorable moments at Wivenhoe Power Station.
Related article:CS Energy: Reporting on Energy Charter commitments
Ian Foy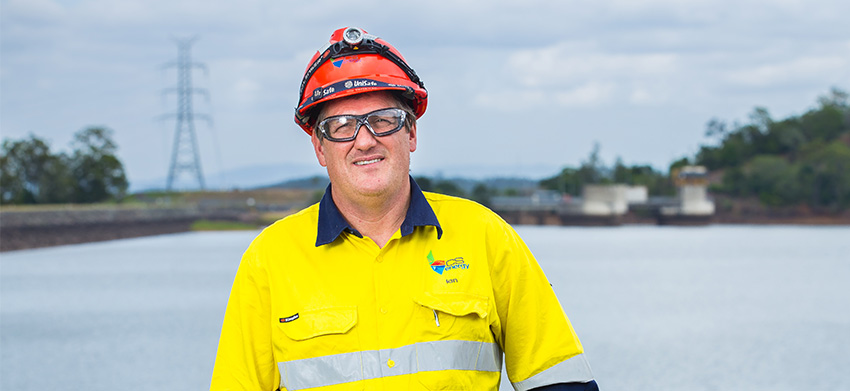 Ian has been at Wivenhoe for 11 years, joining when it was owned by Tarong Corporation. Before this Ian worked at AGL's hydro plant in Victoria.
"Hydro is interesting equipment and it's been around for a long time, it's one of the older forms of power generation," Ian said.
"I've worked in plants built in 1925 and plants that have just been constructed. Hydro power stations are long life assets, so you have to make long term decisions for the asset, which gives you a different focus.
"Something that really stands out is the work we did in the 2016 major overhaul to paint the inside of the pumps – it was all done safely with no incidents.
"It's very important the pumps don't rust away, if they did we can't change them out. So, it's a long-term strategy to paint them on the inside.
"In one overhaul we will do 42 tonnes of sandblasting and use 2500L of paint."

Overhaul contractor McElligotts painted the internals of the Unit 2 spiral casing and pump suction conduit during the 2016 overhaul.
Errol Shoenfisch
Errol started at the station in 1996, although, he had a history with the station before that–dating back to construction.
When Wivenhoe was being constructed in the early 1980s, Errol was a third-year apprentice at nearby Swanbank Power Station. At the time, both power stations were part of the former State Electricity Commission.
"At the time the energy crews were on strike, so the Chief Electrical Engineer for Swanbank at the time drove us out to Wivenhoe to have a look at the construction," he said.
"We parked our cars in the tailbay, which is where the water is now. The structure had 90 per cent of the concrete poured and the tunnels were bored through the hill up to Splityard Creek. We were able to climb up in the tunnels and walk around in them.
"When Wivenhoe was commissioned in 1984 it was technically an unmanned station. There was a station superintendent and some others to do immediate fault finding but all maintenance was done from Swanbank. So, if something needed doing we got in a bus to go out and do the work.
"The first overhaul was in 1986 and I worked on that. I came to work at the station in July 1996 to work on the control system upgrade. I was initially reluctant–Swanbank had 10 units, plus a gas turbine, so I didn't think I'd be busy. But I've been flat out ever since."
"We have a small workforce but there is lots to learn and I'm still learning."
Related article: Spotlight On: CS Energy CEO Andrew Bills

Ian (at left), John Setch from CS Energy's Brisbane Office and Errol (right) walk through Wivenhoe's turbine spiral casing. During normal plant operations, this tunnel carries water from Splityard Creek Dam down to one of the turbines to generate electricity. The tunnel was drained at the start of the overhaul to ensure safe access for overhaul workers.
Other memorable moments
Errol said the 2011 flood was memorable.
"I was on call and had to come in the Sunday night to look at something that was broken. When I went home it was bucketing down.
"On Monday morning the road was cut and the dam was full. We were helicoptered in to the station and stayed on site for three days at a time, and then were flown out on a helicopter.
"The top deck of the station is 78 metres above sea level and the dam got to 75.2 metres, so less than three metres from the top deck. But there was no flooding over the top. Some water got in through small holes – the control room carpet got flooded. However, the pumps handled it.
"We were in constant contact with Seqwater; we had to restrict running so we didn't affect dam levels."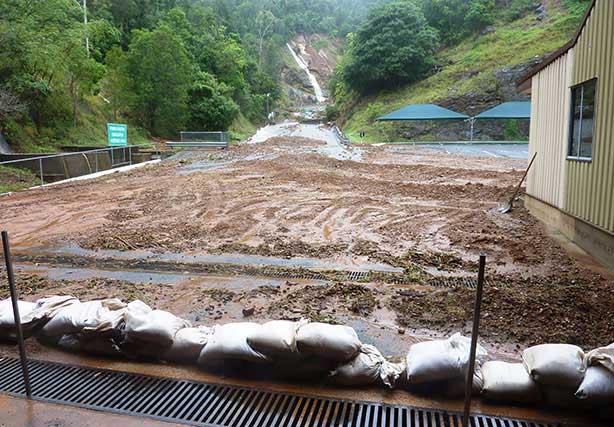 Above and below – Wivenhoe during the 2011 floods.