Aviation H2 is progressing its goal of having Australia's first hydrogen-powered plane in the sky by mid-2023 with the company due to acquire test engines for modification in the next couple of weeks.
Speaking to Stockhead, company director Dr Helmut Mayer said the company was in the process of acquiring two or three test engines, which they will use a proof of concept for their method of converting jet planes to carbon-free fuel.
Its strategic partner and specialist charter flight operator FalconAir is currently going through the process of making sure those engines meet Aviation H2's requirements.
Related article: 'Sharkskin' to make planes faster and greener
"Once we have fully documented that, we will then make an offer on the engines and buy them," Mayer said, adding that their lack of flight certification and the fact that they don't have to be recertified provided a cost-effective solution to purchasing them.
"Then the people in the US who have the engines at the moment will bench-run them to give us a baseline performance for the engines, which we then use to calibrate our tests here in Australia.
"At the moment, we expect to get the engines in the next four to six weeks, and we will start testing fairly shortly after that."
While the test engines will not be used for flight testing, they will be invaluable for the company to prove its technologies and that it is possible for liquid ammonia to continue burning.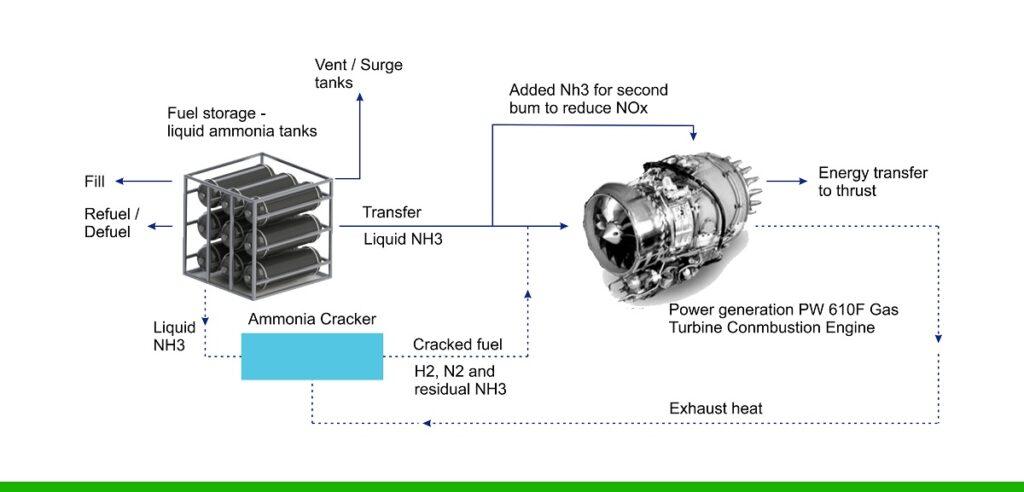 Related article: All-electric plane completes maiden voyage
However, before the company even gets around to modifying the test engines, it will embark on a newly introduced preliminary testing phase.
This will involve the construction of a tubular combustion chamber that will allow the company to control airflow and fuel. This will help the company fully understand the parameters that have to be in place on the engine to make sure the liquid ammonia-powered flame burns steadily.
This phase will allow Aviation H2 to make decisions about the fuel mix configuration, which it will then use to modify the test engines.
"Once we have test engines running happily, and we can demonstrate the full range of operation, then we will make the same modification on an existing aircraft and begin test flights," Mayer said.